Laser Treatment for Prostate
Laser Treatment For Prostate
Men frequently worry about prostate issues, especially as they get older. These illnesses, ranging from prostate cancer to benign prostatic hyperplasia (BPH), can drastically lower a man's quality of life. Thankfully, advances in medical technology have produced cutting-edge therapies, such as laser therapy for problems affecting the prostate. For men looking for efficient and minimally invasive options for their prostate health, this in-depth guide will examine the advantages, techniques, and results of Laser Treatment in Chennai for the prostate. Reach out to us for Holep Surgery in Chennai.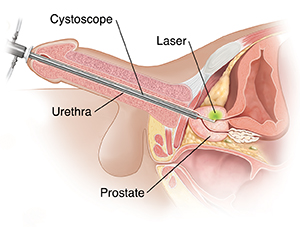 Understanding Laser Treatment For The Prostate
Laser treatment for the prostate involves the use of advanced laser technology to target and address various prostate conditions. It is a minimally invasive procedure that offers several advantages over traditional surgical interventions, such as reduced risk of complications, faster recovery times, and improved long-term outcomes. Let's delve deeper into the benefits and applications of laser treatment for prostate conditions get treated with Laser Prostatectomy in Chennai.
Benefits of Laser Treatment
Applications Of Laser Treatment For Prostate Conditions
The Laser Treatment Procedure
Outcomes And Long-Term Benefits
Laser treatment for prostate conditions offers promising outcomes and long-term benefits for patients. These include:
Laser Treatment for Prostate conditions has revolutionized the field of urology, providing men with effective, minimally invasive solutions for their prostate health. With its precision, reduced risk of complications, and favorable long-term outcomes, laser therapy offers hope to those experiencing benign prostatic hyperplasia or localized prostate cancer. If you are seeking an advanced and patient-friendly treatment option, consult with a urologist specializing in laser therapy for the prostate to determine if this innovative approach is right for you. Take control of your prostate health and embrace a brighter future.